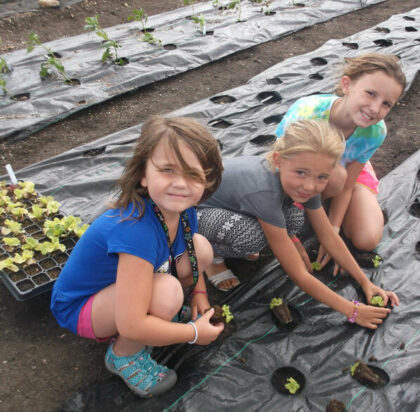 Helping South Dakotans achieve a better quality of life.
Fund Details
Created in 1990, The Larson Family Foundation is a private, non-profit organization. It was established by Dale Larson, CEO and President of Larson Manufacturing Company, the nation's leading manufacturer of storm doors and storm windows. The purpose of establishing a foundation was to give back to the community of Brookings and the state of South Dakota which have played a significant role in the growth and prospering of Larson Manufacturing.

The Larson Family also recognizes that there are few foundations in the State of South Dakota to fulfill the need of the state's communities and citizens. It is the wish of the Larson Family to help improve the quality of life for all South Dakotans.

The Larson Family Foundation is comprised of a group of five Board Members who meet twice a year to review applications.
Board Members
O. Dale Larson, President
Maree Larson
Carmelle Jackson
Bridget Larson Ennevor
Robert Jostad

The Foundation makes grants only to tax-exempt organizations with 501(c)(3) classifications from the Internal Revenue Service including educational institutions, and qualified government units.

The Foundation will not consider requests for general fundraising, deficit financing, loans, grants or scholarships to individuals or loans. The Foundation also does not make grants for research projects or give support to conferences, seminars, media events or workshops unless they are an integral part of a broader program. The Foundation will not provide funding to pay for operating and/or administrative expenses including, but not limited to rent, utilities, salaries, fringe benefits, office furniture, and computer equipment utilized for administrative record keeping, etc.

The Foundation may grant support for several years. Funding commitments, however, are generally made on a year-to-year basis. The Foundation generally does not provide additional funding to an organization until the completion of the organization's previous funding cycle (one year after receipt of a grant). Exceptions may be made in the case of emergency assistance.
Cultural

SD Humanities Council

Young Readers Matching Grant

$25,000

Sioux Falls Community Foundation

SDACF/SDHC Endowment

$55,000

Education

Brookings School District

Scholarships

$8,000

Lake Mills School

2016 Scholarship

$3,000

Red Cloud Indian School

Healthy Meals/Volunteers

$103,447

Human Services

BATA

Vehicles

$25,000

Boys & Girls Club Moody County

Endowment

$100,000

Boys & Girls Club Moody County

Program Funding

$20,000

Boys & Girls Club Brookings

Program Funding

$90,000

Boys & Girls Club Rosebud

Program Funding

$60,000

Brookings County Youth Mentoring

Program expenses

$10,000

Brookings Area Habitat Humanity

Purchase lots

$135,500

Brookings Public Library

Wireless access/computers

$20,812

Cheyenne River Youth Project

Art Program

$25,000

Children's Home Society

Endowment

$500,000

Community Outreach

Crisis care

$15,000

Crazy Horse Memorial Foundation

Program Funding

$10,000

DakotaAbilities

New Vehicle

$54,800

East Central CASA

Program Expenses

$25,000

Family Visitation Center

Program Funding

$30,000

Feeding South Dakota

Program Funding

$25,000

Habitat for Humanity SD

Program Funding

$25,000

Harmony South Dakota

Program Expenses

$7,500

Helpline Center

Social Media Network

$10,000

HorsePower

Scholarships

$15,000

Lutheran Social Services

Renovations

$50,000

Mitchell Area Safehouse

Program Services

$896

Multi-Cultural Center

Program Expenses

$50,000

Native American Community Board

Food Pantry/Backpack

$14,000

Pathways

Program expenses

$12,000

SD Network Against Family Violence & Sexual Assault

Program Expenses

$55,000

Teach for America – SD

Program Expenses

$100,000

The Wholeness Center

Program Funding

$10,000

Volunteers of America – Dakotas

RSVP Program

$2,772

WAVI

Program Funding

$25,000

Youth & Family Services

Healthy Connections

$38,000

United Way

United Way Freeborn County

Match Employee Donations

$7,294

Employee Matching Funds Program

Brookings Humane Society

Match Employee Donations

$1,575

The Neighborhoods

Match Employee Donations

$1,000

Hope Ministries

Match Employee Donations

$3,605

Grayson County Shelter Inc

Match Employee Donations

$1,890
How does an organization apply for a Foundation grant?
An organization must first submit a Letter of Inquiry in eGrant. Organizations that best meet the Foundation's grant guidelines, criteria and funding priorities will be invited to submit a complete grant application. The Foundation has two grant cycles per year; completed applications are due March 1 and September 1. LOI forms may be submitted at any time, but please keep in mind that it typically takes two weeks for the Foundation to review these forms and to respond to each.
What is the average size of a grant?
The Foundation's grants range from $800 to $500,000. The average grant, however, is typically $40,000.
What types of support are available from the Foundation?
The Foundation prefers to support basic human needs such as food, clothing, shelter and education. Within these criteria, the Foundation provides support for new, expanding or sustaining program services, endowments, capital campaigns and general operating expenses, not including rent, utilities, office furniture, salaries, benefits, and computer equipment used for administrative purposes. The Foundation may consider salary and equipment expenses if they are part of expanding program services.
Does the Foundation fund faith-based organizations?
The Foundation funds only non-denominational programs. A religiously affiliated group may operate a program, but participation must be open to anyone. Services must not involve proselytizing of any particular religious belief.
Are there organizations that the Foundation does not fund?
The Foundation does not provide funding for:

Individuals, such as scholarships, loans or pledges for fundraising events such as marathons, relays/walks, cycling, etc.
Loans or reduction of existing debt
Benefits and event sponsorship
Economic development projects
Costs affiliated with fundraising events, political campaigns or programs designed to influence legislation
Assisted living or medical facilities (except in the area of health prevention programs; medical equipment excluded)
Is there a limit to the number of grants an organization can receive?
An organization may apply for a grant annually. However, applicants that have received a grant are advised to submit a final evaluation report before submitting another application for consideration.
Is it expected that we spend the grant money within a year and what if we don't spend all the monies granted?
It is expected that organizations spend the awarded grant monies within one year of receipt. Funds not exactly spent within this timeline must be returned to the Foundation unless ​authorized by the Larson Foundation.





Looking to apply?
Larson Family Foundation Grant Process
Letters of Inquiry (LOI) must be from non-profit 501(c)(3) organizations whose office resides in the state of South Dakota.
The first step in applying to the Foundation is a short LOI. Deadlines to submit a LOI are two weeks before the application due date. After we review your inquiry, we will contact you as to the next step in the application process.
LOIs must be from non-profit 501(c)(3) organizations within the State of South Dakota. LOIs should include the following:
a brief statement of your organization
a brief summary of the activities for which you are requesting support
the amount requested from the Foundation
Due Date for Applications are March 1 and September 1 of each year.
When a letter of inquiry reflects most closely the Foundation's program priorities, we will ask you to complete the Larson Foundation Grant Application in eGrant. This should not be interpreted as an indication of likely support as the Foundation receives more applications than it can fund.
Application deadlines are March 1 and September 1 of each year. You will be informed of the Board's decision in May or November following the board meeting in which your application was discussed. If a grant is awarded, you will be asked to sign a Due Diligence form that defines progress reporting and other requirements.
Larson Foundation requires a final evaluation be submitted in eGrant at the end of project.
Have questions? Reach out to us.